A visit to Bristol Bath Railway Path
The path was the disused railway, closed by Beeching in the 1960's. The old railway was converted to a cycle path by Sustrans between 1979 and 1986.

The surface was recently widened with a new smooth Tarmac with funding from the Department of Transport from various sources.The surface is usable 24 hours a day and all year around, riders and walkers don't get muddy due to the tarmac surface. Obviously lights are needed at night and it must be hazardous when icy (gritting cycle paths as are done with roads may not work as roads depend upon traffic to make the gritting work), apart from that it is cost effective measure.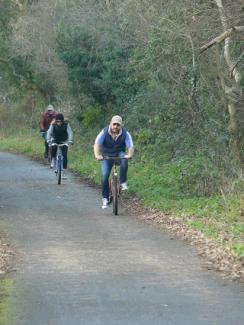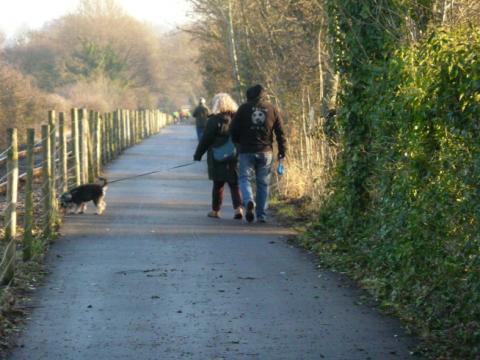 The path is used by commuters, shoppers and leisure cyclists as well as walkers of all ages and abilities.
You ,may well wonder how this works, especially as Suffolk has some shared paths that really don't work at all well.

The solution seems to be the width of the path, Three metres of tarmac is sufficient for a family with buggies walking to be overtaken by cyclists the tinkle of bells warning pedestrians to allow room, and both parties had sufficient tarmac to allow this without getting muddy.

Dog walkers I spoke to told me they now have their dogs on a shorter lead, indeed even those with the wind in/out type were kept short, this prevented cyclists running over dogs or indeed leads. Though as the photo here shows, when there are no cyclists around the dog lead can still be let out a bit.

I saw no mobility scooters or wheelchairs whilst I was there but am assured users of these modes of transport happily us the path as well.

 
There is a code of conduct for use of the path which is adhered to by most users,
The Bristol and Bath Railway Path is a shared space to be used by pedestrians, disabled people and cyclists with consideration for all.
Everyone has equal priority.
Cyclists - please pass pedestrians and disabled people slowly and carefully, and warn them by bell or voice if they haven't seen you.
For safety, please ensure that young children are supervised and dogs are kept under control.
Please only use official access points onto the Path to avoid erosion and damage to nature.
Keep visible at dusk or night with lights or light coloured clothing.
Motorbikes are not allowed.
The day I was there was during the Christmas break so most people were out for a leisurely stroll or walk, But I spoke to one man who used the route daily for his commute from Bath to Bristol and he told me how pedestrians and dog walkers rarely cause any issue and the biggest issue found is the volume of cyclists in places causes congestion on the route!!!

Indeed the route was widened at one particularly busy point two years ago at a cost of £80,000 to counter such congestion.
The smoothness of the surface clearly has something to do with this as this picture shows. A smooth, all-weather surface that makes it perfect for all users.

So this path, I suggest should be the model for what we do with Valley Walk initially and other paths eventually, It would encourage all year round use without getting muddy and needing wet weather gear when it is not raining and be usable by all kinds of bike.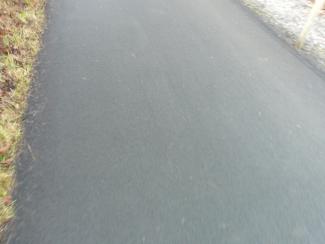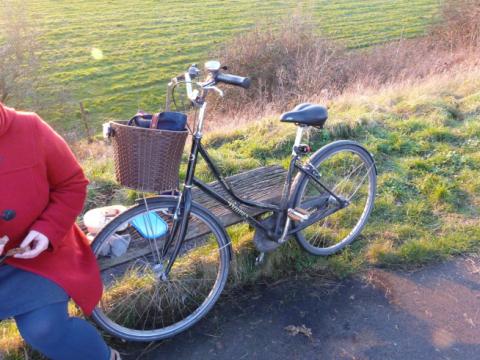 When I say all kinds of bike I mean like the one below, a "Sit up and beg" bike with tyres designed for the road not the mud and flint of the current Valley Walk Surface.
Originally posted
Monday 24th April 2017
Last updated
Tuesday 2nd May 2017
Disclaimer: The views portrayed in this blog are those of the author and not necessarily those of the Campaign.